If you've ever wondered just how big Walmart is, you're not alone.
The company's incredible success has been built on its ability to provide customers with the products they need at unbeatable prices.
With over 10,500 stores in 24 countries and e-commerce sales skyrocketing, Walmart is a true retail juggernaut.
Want to know more about this retail giant?
At Dataopedia.com we've gathered the most up-to-date Walmart statistics, facts, and trends to help you get the full picture.
Keep scrolling for the complete Walmart story.
About Walmart
Walmart is a multinational retail corporation that operates a chain of department stores, grocery stores, and discount stores. It was founded by Sam Walton in 1962 and is headquartered in Bentonville, Arkansas.
Walmart is known for its low prices and wide variety of products, from groceries and household goods to electronics and apparel.
The company has over 10,500 stores in 24 countries and employs over 2.2 million people worldwide. Walmart's success has made it one of the largest and most profitable companies in the world.
Walmart industry analysis
Walmart is a dominant player in the retail industry and has continued to grow and expand its operations over the years.
A key factor in the company's success is its strong financial performance, with consistently high revenue and profitability. In addition, Walmart has a well-established brand and a large customer base, which allows it to negotiate favorable terms with suppliers and drive down costs.
The company has also made strategic investments in technology and logistics, enabling it to offer efficient and convenient shopping experiences for customers.
Despite facing challenges from online competitors and changing consumer preferences, Walmart remains a formidable force in the retail industry.
Walmart's market share
Walmart has the largest market share in the retail industry, with a revenue of over $500 billion in 2018. This allows the company to offer low prices and a wide range of products to its customers.
In the US, Walmart holds a 28,98% market share in the retail industry, making it the largest retailer in the country.
The company's dominance in the market allows it to set industry standards and drive competition among other retailers.
How big is the average Walmart?
The average Walmart store is approximately 105,000 square feet in size. This is larger than a typical grocery store, but smaller than a typical big box retailer like Target or Costco. Walmart Supercenters, which offer a wider range of products and services, are typically larger at around 178,000 square feet.
How many people shop at Walmart?
There are millions of people around the world who shop at Walmart every day. The retail giant has locations across the United States and around the world, making it a popular destination for shoppers looking for affordable prices on groceries, household items, and more.
In addition to its physical stores, Walmart also has an online platform that allows customers to shop from the comfort of their own homes. The company's convenient and affordable offerings have made it a go-to destination for many people.
How many customers does Walmart serve globally in one week?
In fiscal year 2022, there were approximately 230 million customer visits each week to Walmart stores throughout the world, down from 240 million on a weekly average a year earlier.
How many stores does Walmart have?
Walmart currently has over 10,500 stores worldwide. In the United States alone, there are over 5,000 Walmart stores, including traditional Walmart stores, Walmart Supercenters, and Walmart Neighborhood Markets.
Walmart also has locations in Mexico, Canada, and various other countries. This makes Walmart one of the largest retail chains in the world, with a presence in almost every region of the globe.
How many Walmart stores are there in the US?
Walmart is one of the largest retailers in the United States, with over 4,600 stores across the country. You can find Walmart stores in every state.
The company operates a variety of store formats, including supercenters, discount stores, and neighborhood markets, in order to provide a range of shopping options for its customers.
Walmart also operates a number of distribution centers and fulfillment centers across the US, supporting its extensive network of stores and ensuring that products are readily available for purchase.
States ranked by how many Walmarts they have
| State | Number of Walmarts |
| --- | --- |
| Texas | 593 |
| Florida | 387 |
| California | 309 |
| Georgia | 215 |
| North Carolina | 214 |
| Illinois | 184 |
| Ohio | 170 |
| Pennsylvania | 160 |
| Missouri | 156 |
| Tennessee | 150 |
Source: corporate.walmart.com
How many Walmart stores are there in the world?
Walmart has approximately 5,900 stores outside of the US in over 24 countries around the world. This includes stores under the Walmart brand as well as stores under other brands that Walmart owns.
Walmart has a strong presence in countries such as Canada, Mexico, and Brazil, but also has stores in countries as diverse as India, China, and Chile.
The company continues to expand its international footprint and has plans to open additional stores in the future.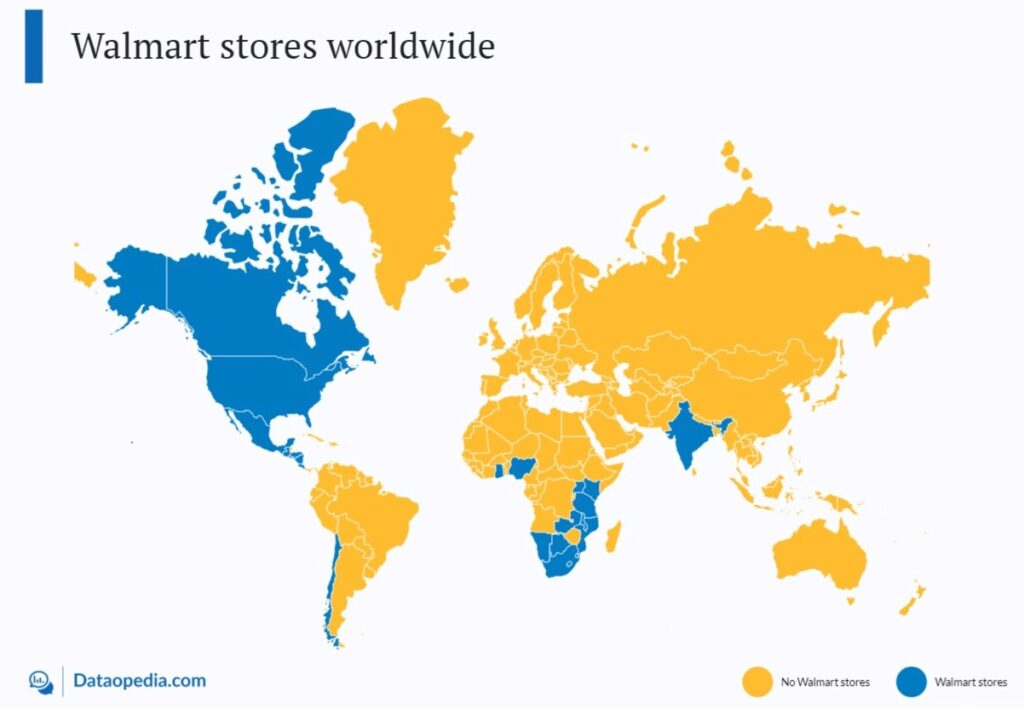 | Location | Number of Walmart stores |
| --- | --- |
| United States | 5320 |
| Mexico | 2804 |
| Canada | 402 |
| Chile | 384 |
| China | 369 |
| South Africa | 361 |
| Costa Rica | 290 |
| Guatemala | 263 |
| Honduras | 111 |
| El Salvador | 102 |
| Nicaragua | 102 |
| India | 28 |
| Botswana | 11 |
| Zambia | 7 |
| Mozambique | 6 |
| Namibia | 5 |
| Nigeria | 5 |
| Ghana | 4 |
| Kenya | 4 |
| Lesotho | 3 |
| Malawi | 2 |
| Swaziland | 1 |
| Tanzania | 1 |
| Uganda | 1 |
How many people does Walmart employ?
Walmart is one of the largest employers in the world, with over 2.2 million employees. The company has a global presence, with stores and distribution centers in various countries across the globe.
Walmart employs a diverse workforce, with a range of job positions available, from store associates and cashiers to managers and executives. In the United States alone, Walmart employs over 1.5 million people, making it one of the country's largest employers. The company continues to expand and hire new employees to meet the demands of its growing customer base.
Number of Walmart employees in US
In the United States, Walmart employs over 1.5 million people, making it one of the largest private employers in the country.
Walmart employs workers in a variety of roles, including cashiers, sales associates, and managers, as well as in distribution centers and corporate offices.
The company's large workforce is a major contributor to its success, allowing it to provide a wide range of products and services to customers across the country.
How many Walmart employees worldwide?
There are approximately 0.6 million Walmart employees worldwide outside of the US. This number includes employees in countries such as Canada, Mexico, China, Brazil, and India.
Walmart has a strong global presence and continues to expand its operations in various countries around the world.
How many employees does Walmart have per store?
On average, each Walmart store employs around 300-400 people. This number can vary depending on the size of the store and its location. In larger stores, there may be over 500 employees, while smaller stores may have less than 200 employees. Walmart also has a significant number of part-time employees, who work fewer hours and may not be counted in the total number of employees per store.
What percentage of Walmart's workforce is comprised of women?
The gender diversity within Walmart's workforce is remarkable, with women comprising a significant portion of its employees. In 2021, over half of the company's worldwide workforce, 55%, was female.
This figure is even more impressive when considering the representation of women in leadership positions, with 43% holding management roles.
Furthermore, the number of women working in Information Technology at Walmart is substantial, standing at 26%. These statistics showcase the company's commitment to promoting diversity and gender equality in the workplace.
Walmart Facts
The company's slogan is: "Save Money. Live better."
The yearly increase in Walmart's gross profit margin is approximately 24% to 25%.
Sources